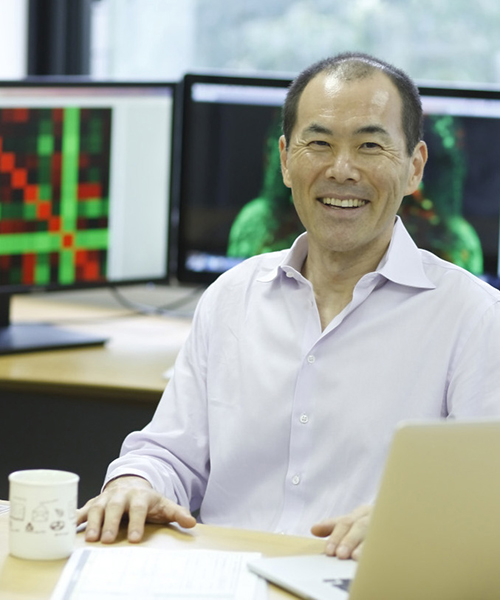 Scientific Founder and Chair of Board of Directors, Karydo TherapeutiX, Inc.
Director, The Thomas N. Sato BioMEC-X Laboratories, Advanced Telecommunications Research Institute International, Kyoto, Japan
Research Director, ERATO Sato Live Bio-forecasting Project, Japanese Science and Technology Agency, Kyoto, Japan
Adjunct Professor, Cornell University, Graduate School of Biomedical Engineering, New York, USA
Affiliate Member, Centenary Institute, Sydney, Australia
Dr. Sato is ranked among the top 1% most cited scientists in the field of molecular biology and genetics. The most cited papers include: T.N. Sato, Y. Tozawa, U. Deutsch, K. Wolburg-Buchholz, Y. Fujiwara, M. Gendron-Maguire, T. Gridley, H. Wolburg, W. Risau and Y. Qin, "Distinct roles of the receptor tyrosine kinases Tie1 and Tie2 in blood vessel formation." Nature 376:70-74 (1995) C. Suri, P.F. Jones, S. Patan, S. Bartunkova, P.C. Maisonpierre, S. Davis, T.N. Sato and G.Y. Yancopoulos, "Requisite role of angiopoietin1, a ligand for the TIE2 receptor, during embryonic angiogenesis." Cell 87:1171-1181 (1996) P.C. Maisonpierre,* C. Suri,* P.F. Jones,* S. Bartunkova,* S.J. Wiegand, C. Radziejewski, D. Compton, J. McClain, T.H. Aldrich, N. Papadopoulos, T.J. Daly, S. Davis,* T.N. Sato* and G.D. Yancopoulos* (* equal contribution,) "Angiopoietin-2, a natural antagonist for Tie2 that disrupts in vivo angiogenesis." Science 277:55-60 (1997)
| | |
| --- | --- |
| 1973 | 1st place winner of National Science Contest for Elementary School Students (Japan) |
| 1983 | American Heart Association, Established Investigator Award(-2001) |
| 1985 | Predoctoral Fellowship, Georgetown University, Washington, DC (-1988) |
| 1987 | Cold Spring Harbor Summer Fellowship, Cold Spring Harbor Laboratories, Cold Spring Harbor, NY |
| 1998 | American Heart Association, Established Investigator Award (-2001) |
| 2005 | Jokichi Takamine Research Award (Japanese Endocrinology and Cardiovascular Society) |
| 2006 | Listed among the top 1% most cited authors for journals in Molecular Biology and Genetics |
| 2006 | Scientific Advisory Board Member, Surface Logix, Inc. (-2008) |
Accomplishment in Technology Development:
UTSD:0672 (UT Southwestern Medical Center at Dallas, Texas, USA) "Transgenic Mouse Expressing Green Fluorescent Protein Specifically In Vascular Endothelium (Tie2-GFP Mouse) (JAX strain 003658)"
Genentech, Inc., Novartis Institutes for Biomedical Research, Sanofi-Synthelabo Recherche, Bayer AG, Columbia Innovation Enterprise, ImClone Systems Incorporated, Jackson Laboratory, Monsanto Company, Merck & Co., Inc.
Other notable accomplishments:
Dr. Sato is an Ironman Triathlete and completed several Ironman triathlon races including Ironman Lake Placid, Ironman Japan, Ironman Coeur d'Alene.